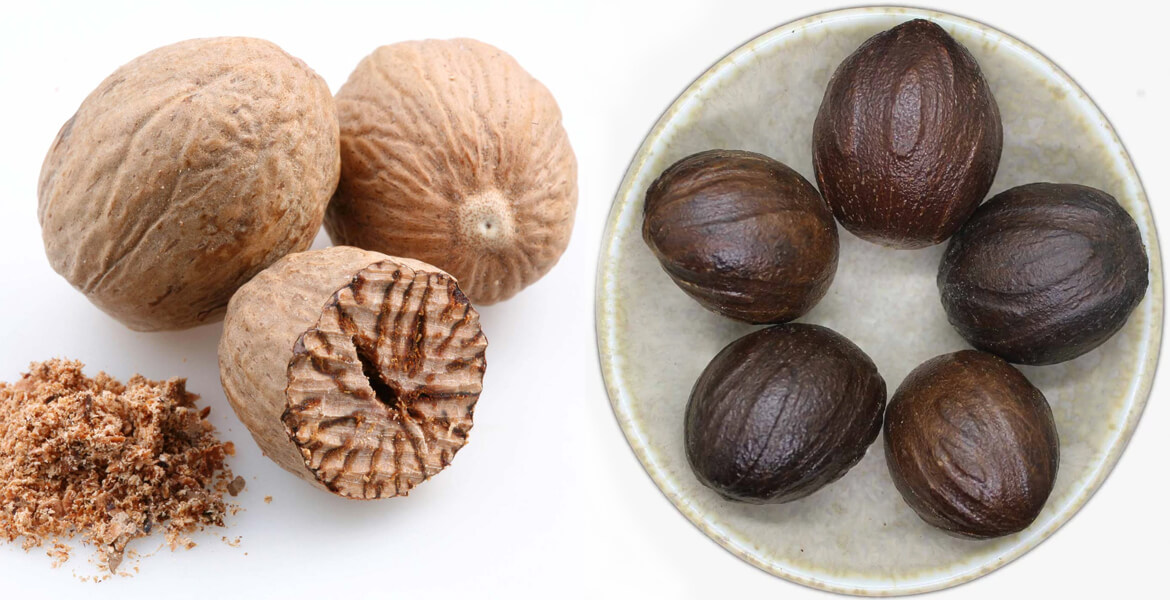 Nutmeg from India, Indonesia & Sri Lanka
Nutmeg is a spice that is native to Banda islands. It is obtained from a tree named Myristica Frangrans. The tree is cultivated for the purpose of extracting mace and nutmeg that are two different spices. While nutmeg is extracted from the seed of its fruit, mace is obtained from the seed covering. SST is one of the top nutmeg suppliers in UAE that supply quality nutmeg to their bulk clients belonging to different corners of the world. Being one of the prominent nutmeg exporters in UAE, we ensure quality at each step and put our best in serving our clients with the best nutmeg grown in India, Indonesia and Srilanka.

If we talk about its history, nutmeg is supposed to exist since the first century. However, the world started knowing about the spice in 7th century after Arabs introduced the spice to Europe. After that, the Portuguese visited Banda Islands in the late 14th century and started trading it. Finally, the trade was taken over by the English who later introduced it to several other countries that include India, Sri Lanka, Penang, Singapore, and the West Indies. Since then, the spice has made itself among the essential ingredients in many households. Nutmeg is popular for its significant health benefits that include:
It is used in several traditional medicines because of its therapeutic benefits.
The spice is known to lower the anxiety levels and relieve stress.
It is rich in many essential minerals such as , potassium, calcium, magnesium, manganese, and zinc that help regulate blood pressure and control heart rate, and offer antioxidant benefits.
It also contains iron that is essential for red blood cells and prevents anemia.
Being among the leading nutmeg suppliers in Dubai, we offer well-processed nutmeg imported from India, Indonesia and Sri Lanka. Reach us today with your bulk requirements.
Nutmeg from India
You will hardly find a household in India that doesn't use nutmeg at all. It is its irresistible flavour and aroma that has made it popular all over the world. Nutmeg is used to flavour a number of cuisines and extensively used for adding taste to non-vegetarian food items such as meat, beef etc. We are one of the major Indian nutmeg suppliers in UAE that export quality nutmeg imported from India to their bulk clients. Our clientele includes many well known names belonging to food and pharmaceutical industries from several countries. Being among the prominent Indian nutmeg suppliers in UAE, we evaluate quality before supplying it to our customers. As we cater to bulk requirements only, we are aware of the impact quality will be eventually making on a larger consumer base.

India produces over 15000 MT of nutmeg which makes it the second largest producer and exporter of nutmeg in the world. The major part of this nutmeg is grown in Kerala which contributes around 90% of the total production. It is its irresistible quality and freshness that keeps Indian nutmeg always high in demand. So, if you are looking for quality nutmeg from India, you can reach us with your requirements without thinking twice.
Basic information about Nutmeg
Indonesian evergreen tree known as Nutmeg is the source of nutmeg spice. This spice is used in different types of beverages and desserts. In the modern world where many people are fond of savory dishes, nutmeg continues to be in great demand. The taste of Nutmeg is milder when compared with mace but is more delicate and sweeter. In the past it was exclusively exchanged in the barter system. Surprisingly, this valuable spice has also been the cause of wars in the past. It takes several weeks, almost six to eight weeks for nutmegs seeds to dry in the sun. With passage of time, the size of nutmeg shrinks. Rattling of the kernels in the shells gives the indication that the spice is ready. Then the nutmeg is separated from the outer layer and packed. There is very heavy demand for Nutmeg from Sri Lanka.
Heavy demand of Sri Lanka nutmeg suppliers in Dubai
Nutmeg is considered as a treasured and very valuable spice. At SST, we are familiar with the different reasons for which Nutmeg is exported and imported. Dubai is a megacity and a home to thousands of restaurants. This intense spice has a very distinguished and strong aroma. We are counted amongst the leading and most reliable Sri Lanka nutmeg suppliers in UAE. The Nutmegs supplied by SST are used for flavoring puddings, potatoes, sausages, sauce, meat vegetables and other beverages.
Are you looking for Nutmeg from Indonesia?
Indonesia produces almost 17 to 20 thousand tonnes of nutmeg per year. SST imports Nutmeg from processing lines that are located in Eastern Indonesia, the Banda Islands. Area, environment, geographical location are also instrumental in deciding the quality of Nutmegs. Sulawesi Island is believed to be the best place where nutmegs grow. Look no further than SST, if you are seeking genuine Indonesian nutmeg suppliers in Dubai.
SST believes in maintaining rich quality, taste and aroma
High quality Nutmeg is a major export, an important spice of Indonesia. This nation supplies almost half of the world's supply of Nutmeg. SST is one of the noted Indonesian nutmeg suppliers in UAE. We strive to maintain the balance between taste, quality and aroma.